Thank you for your interest in employment with the Dhaka Mass Transit Company (Metro Rail) Job Circular in Bangladesh. This is your chance to share your story and connect with govt job field in our country. Dhaka Mass Transit Company has circulated job circulars in recent times. As a hope for a job, you'll represent your skill and qualification. Please note that resumes/cv send only not direct interviews or other communication. See our all govt job update circular.
| | | |
| --- | --- | --- |
| Number of vacancies | Grade | Closing Date |
| 330 | See The Circular | 31 October 2022 |
Dhaka, the capital of Bangladesh is one of the most highly populated and traffic-congested cities in the world with an ever-increasing population of over 14 million. With unbearable traffic congestion all around the city has become a grim reality for its inhabitants. In the absence of a dependable and adequate public transport system, most of the roads remain occupied by vehicles with very little capacity. Currently, the notable mass transit facility within the city in the form of Government and privately owned buses, and very few railway routes are overburdened with the ever-increasing demand for a better and modern commuting system within the city.
The urgency to mitigate the mass transportation problems in Dhaka prompted the Bangladesh Government to seek expansion and modernization of the city's Mass transit mode. In 1998, Bangladesh Government created the Dhaka Transport Coordination Authority. An urban transport plan was commissioned in 2008, wherein the Government laid out a comprehensive transport plan named Strategic Transport Plan (STP) for Greater Dhaka City and its adjoining areas. .
Dhaka Mass Transit Company (Metro Rail) Job Circular 2022 dmtc.org.bd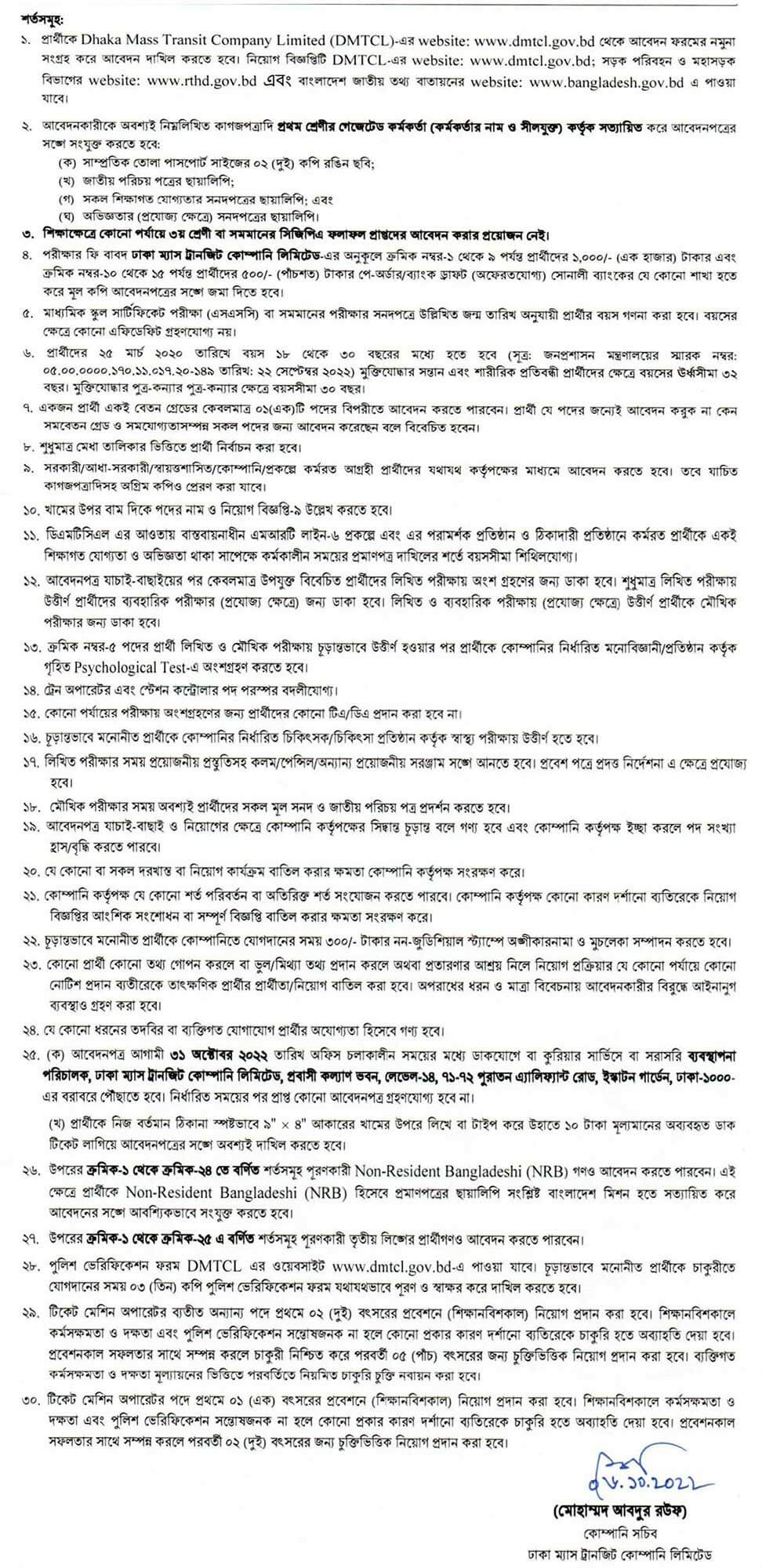 Application Deadline: 31 October 2022
Source: Official Website
Visit Official Website: www.dmtc.org.bd
The plan looked at various Key Policy issues including safety, pedestrian preferences, public transport, non-motorized transport, travel demand management, mass transit systems, etc. From 70 different policy recommendations under the STP, 10 comprehensive transportation strategies were evaluated. The approximate travel time will be a little over half an hour. To maintain and use MRT line-6 properly, an international standard Rolling Stock will be deployed. Later the Strategic Transport Plan was revised and the newly adopted plan includes construction of 5 Metro Rail lines across the City. MRT LINE-6 is being implemented to make life easier, for everyone in Dhaka. It will run all the way from Uttara to Motijheel, covering the distance of 18.9 kilometers, with 16 stations along the way. The stations are Uttara North, Uttara Center, Uttara South, Pallabi, Mirpur-11, Mirpur-10, Kazipara, Shewrapara, Agargaon, Bijoy Sarani, Farmgate, Karwan Bazar, Shahbagh, Dhaka University, Bangladesh Secretariat and Motijheel. There will be 24 sets of Trains each set consisting of   6 cars initially, with a plan for expanding to 8 cars per set in the future. In order to ensure safety for the passengers, Platform Screen Doors (PSD) will be installed on all stations.
The Metro Rail coaches will be equipped with modern features like information display, well organized seating arrangement, Air-conditioning with Wheelchair accessibility on both ends of the Train. During Peak hours the trains will run every 4 minutes 30 seconds in 2022, and every 3 minutes 45 seconds in 2026. In 2022 an estimated 5 lakh people will commute by MRT Line-6 every day. In order to reduce vibration and noise, Floating Slab Track (FLS), Continuous Welded Rails (CWR) and Noise Barrier wall will be installed wherever necessary. The Viaduct of the MRT line-6 will be generally 10.4m high.Once finished, it will be the most time efficient, reliable, safe, comfortable and environment friendly solution, that will transform Dhaka into a more active, commutable and sustainable city. Metro Rail Dhaka Mass Transit Company, "Moving people, saving time, & Energy.